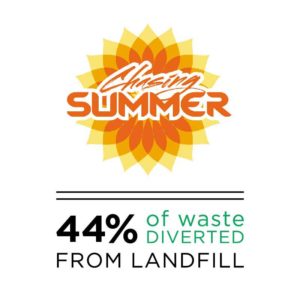 Chasing Summer Music Festival, brought to us by Live Nation is an 18+ festival experience for electronic music fans, taking place outdoors at Max Bell Centre Festival Grounds in Calgary. Chasing Summer takes place over two days, with 1700 attendees.
Challenge
This outdoor festival needed waste reduction equipment, and the people power to keep up with this busy festival. Being outdoors, we also needed to be able to handle waste in adverse conditions.
Towards Zero Waste
We worked with the organizers to map out their waste reduction equipment needs, develop relationships with the vendors, and staff appropriately to keep the dance floors clear of debris. Overflowing fun, yes. Overflowing trash bins, no.