X-Fest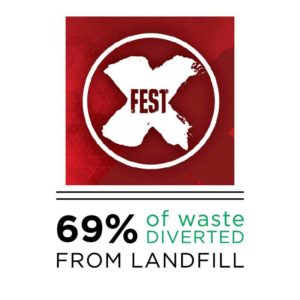 was brought to us by Live Nation and X92.9, was Calgary's Alternative Music Festival. X-Fest took place over two days, with 10,000 guests each day.
Challenge
The event wanted to bring the party, but keep it clean, too. With an outdoor event site. Waste collection infrastructure was a necessity, along with the people power to maintain the site's cleanliness.
Towards Zero Waste
We had the pleasure of working with X-Fest for two years, prior to its retirement.The achievement of a 69 per cent waste diversion was made possible in collaboration with the event organizers, and with the vendors. We're sad to see this festival go!