Sonic Boom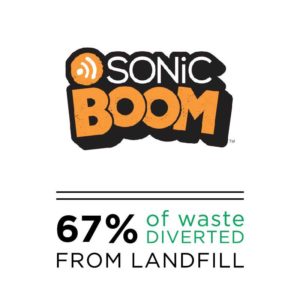 brought to us by Live Nation and Sonic102.9, was Edmonton's Alternative Music Festival. Sonic Boom took place over two days, with 10,000 guests each day.
Challenge
With a large outdoor event site as part of the festival, there was no infrastructure in place to collect and divert waste.
Towards Zero Waste
Green Event Services was called in to provide the infrastructure and staff to maintain the collection bins and event site. We only had one opportunity to work with Sonic Boom, and we're sure glad we did. With an initial waste diversion success of 67 per cent, we were thrilled that our neighbours in Edmonton were quick to pick up on our mission.